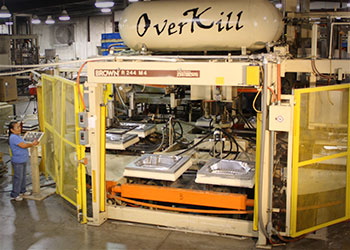 Cost-effective plastic production requires a wide array of equipment with different features and capabilities that allow our customers to get the plastic parts they designed at the lowest possible manufactured cost. Investment in equipment is the key and has allowed NPI to move to the forefront of custom plastics manufacturing. No other plastic manufacturer in the Midwest has a wider selection of equipment to cost-effectively process any job than Neodesha Plastics, Inc.
NPI houses 42 vacuum forming stations with plastic sheet sizes ranging from 12″ x 12″ to as large as 168″ x 120″. Unique to NPI is our ownership of five state-of-the-art "twin spindle" rotary vacuum formers. As our competitors define "high speed" as their rotary thermoformers, we set the pace with twin spindle rotary thermoformers. Simply put, twin spindle cuts cycle times in half since our equipment doesn't have to wait on the forming-cooling station timing.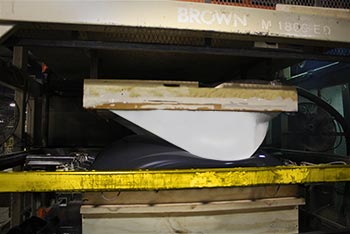 Many of our plastic vacuum forming machines are set up for "snap back" or "pre draw" to offer a better material spread and uniform wall thickness – all while reducing or eliminating unsightly "shock lines" often seen in vacuum formed parts.
NPI's vertical two-sided oven is used to heat sheet plastic that will be "sandwiched" into a fixture to cool into a desired shape. This plastic manufacturing technique allows three-dimensional plastic parts to have a more predictable wall thickness than found with competitor's standard vacuum forming techniques on less complex parts.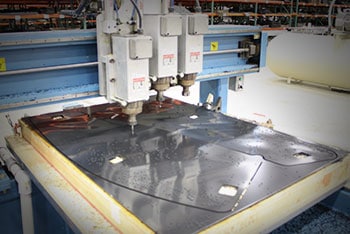 Neodesha Plastics, Inc. takes one of five five-axis and four three-axis and creates a one-dimensional shape with tolerance drilled holes often used in seating, wall assemblies or circuit board type layouts using HMPE, ABS, polycarbonate kydex, foil laminate or acrylic up to 1″ thick.
By customer demand, NPI takes an ABS formed part and covers it with a "velvet like" top coat bonded with a water-based adhesive that is then electrostatically charged to the ABS surface. This produces a high-wear and high-end finish that hides surface issues while giving the end user a feeling of uncompromising quality due to its luxurious feel and ability to dampen noise.