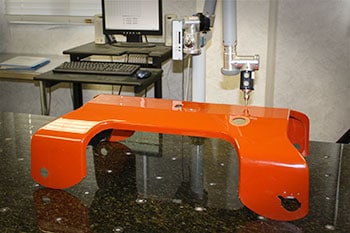 Neodesha Plastics has been serving plastic thermoforming and plastic vacuum forming customers for over 40 years and we guarantee a rapid response accompanied with friendly service. As a custom plastic manufacturer, we promise that your plastics project will be handled by professionals who know product development and plastic manufacturing – and the importance of getting accurate results to you on time.
Once your company has made an initial design that includes plastic thermoforming or vacuum forming, contact us and our team of engineers will convert your file for a custom production quotation. SolidWorks and/or Surfcam software will be used to produce an aesthetically pleasing, yet manufacturable plastic part in the most price-competitive method possible. This process combines solid modeling with NPI's expertise, which allows us to address possible manufacturing problems before tooling work ever begins.
NPI uses FARO technology for "reverse engineering", which is digital measurement of existing parts to capture geometric data. This technology enables NPI to virtually recreate custom plastic parts and allows our customers the ability to modify the parts to suit their needs. FARO technology can also be used as a "coordinate measurment machine" when technical data is needed to verify a plastic part's dimensional validity during the approval or PPAP process, or simply to verify trimmed part versus print-file accuracy. Our FARO technology is a great problem solving tool and allows our team to reproduce replacement tooling and CNC plastics machining trim paths in a fraction of the time.
No matter what 3-D model file you send to NPI, we promise to do our best work for a seamless transfer of your file. Send us your solid model file from Pro/Engineer, SolidWorks, Surfacm, Unigraphics or Mastercam and we will help you get your project started.